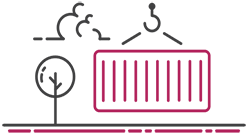 We have been designing building and operating stages for over a decade and so we know how to make everything look great and just work. It has all been thought about and is built in to make it as fast and reliable as possible. No long trailing cables across the stage as they are sunk into the floor, audio clarity from our professional line array speakers, bright, creative and interesting stage lighting, no chugging,
fuming diesel generator with our silent solar power systems – the list goes on!
Don't think our stages are just for rock and roll though: we build rugged but good-looking fast deploy structures that are only limited by your imagination. Want an outdoor gaming arcade? A platform to speak to potential customers from? An impressive, immersive mobile shop? Our engineers can turn your ideas into a reality, with flexible hire and sale options get in touch to see how we can help you.
Tech specs.
Our standard unit specs are as follows (but remember that we can create bespoke spec units to your requirements)
• Ohm Vela line array suitable for audiences of up to 10,000 people
• 4 way stage monitoring
• 90″ HD LCD screen
• 40 channel digital sound desk
• Adjustable height stage
• Full LED colour changing lighting rig with control
• Solar power system with minimum 8 hour battery run time
• 30 minute set-up/take down time
• Full set of wired microphones
• 30sqm stage area
how does it work?
watch the video
want to buy or lease?
we've got you covered:
Hire – Short Term.
Whether it's a one-day community event or a weekend-long festival, we're here to help.
Lease Hire – For Longer.
You might want a platform for an extended marketing campaign in a city centre or a stage left in situ for a series of events. This is where our lease hire option would work for you.
Buy – For The Long Haul.
Your very own Stage Box to keep and use however you like for as long as you like.
what do the stage box
solutions look like?
click here to visit our gallery page
check out our sister company
the Stage Bus: